Here is an example of a web server running on an Arduino board. The rig consists of a Arduino Duemilanove (2009), with an Arduino Ethernet Shield, and a Rogue Robotics uMMC Serial Data Module running at 38400 bps connected to pins 14 and 15 on the Arduino.
There are a few modifications to the Ethernet library and to the webduino library. I'll post the updates to the libraries if people are interested enough. Make some comments below.
Demo Site
(no longer available)
The demo site has a chat page example, and an authentication example. The user and password for the authentication example is "kotter" and "sweathog" respectively.
Web Demo 1
Shield Stack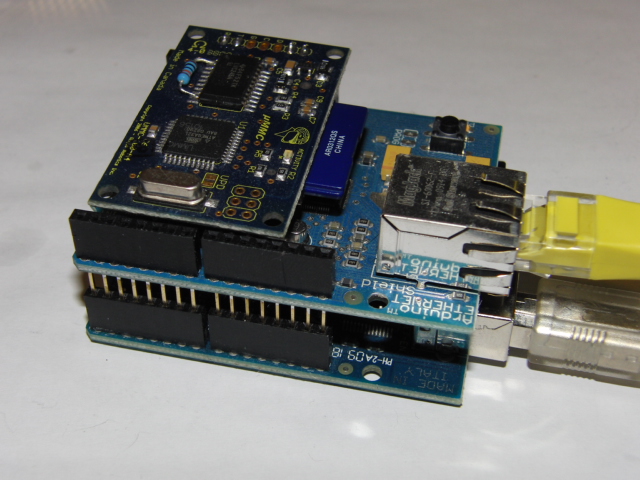 The Arduino shield stack is: Arduino 2009, Arduino Ethernet Shield, and Rogue Robotics uMMC.
Source Code
RogueSD_Web_Server1.pde



#define WEBDUINO_SERIAL_DEBUGGING 0
#define WEBDUINO_USE_AUTHENTICATION 1





#include <avr/pgmspace.h>
#include <ctype.h>
#include "Ethernet.h"
#include "WebServer.h"
#include <RogueSD.h>
#include <NewSoftSerial.h>





NewSoftSerial

 

ummc_s

(

14

,

 

15

);





RogueSD

 

ummc1

(

ummc_s

);





// CHANGE THIS TO YOUR OWN UNIQUE VALUE


static

 

uint8_t

 

mac

[]

 

=

 

{

 

0xDE

,

 

0xAD

,

 

0xBE

,

 

0xEF

,

 

0xFE

,

 

0xED

 

};




static

 

uint8_t

 

ip

[]

 

=

 

{

 

192

,

 

168

,

 

1

,

 

102

 

};





WebServer

 

webserver

(

""

,

 

80

);





int32_t

 

getFileSize

(

const

 

char

 

*

path

)




{


  

int8_t

 

filehandle

;


  

uint32_t

 

filesize

 

=

 

-

1

;



  

filehandle

 

=

 

ummc1

.

open

(

path

,

 

OPEN_READ

);


  
  

if

(

filehandle

 

>

 

0

)


  

{


    

fileinfo

 

fi

 

=

 

ummc1

.

getfileinfo

(

filehandle

);


    

filesize

 

=

 

fi

.

size

;


    

ummc1

.

close

(

filehandle

);


  

}



  

return

 

filesize

;




}





int8_t

 

spewFile

(

WebServer

 

&

server

,

 

const

 

char

 

*

path

)




{


  

int8_t

 

resp

,

 

filehandle

;


  

char

 

buffer

[

50

];



  

filehandle

 

=

 

ummc1

.

open

(

path

,

 

OPEN_READ

);


    
  

if

(

filehandle

 

>

 

0

)


  

{


    

while

((

resp

 

=

 

ummc1

.

read

(

filehandle

,

 

50

,

 

buffer

))

 

>

 

0

)


    

{


      

server

.

write

(

buffer

,

 

resp

);


    

}


    

ummc1

.

close

(

filehandle

);


    
    

return

 

0

;


  

}


  

else


  

{


    

return

 

-

1

;


  

}




}






void

 

displayRequest

(

WebServer

 

&

server

,

 

WebServer

::

ConnectionType

 

type

,

 

char

 

*

url_tail

)




{


  

char

 

ipaddr

[

20

];


  

uint8_t

 

rip

[

4

];



  

server

.

getRemoteIP

(

rip

);


  

sprintf_P

(

ipaddr

,

 

PSTR

(

"%u.%u.%u.%u "

),

 

rip

[

0

],

 

rip

[

1

],

 

rip

[

2

],

 

rip

[

3

]);


  

Serial

.

print

(

ipaddr

);


  

switch

(

type

)


  

{


    

case

 

WebServer

:

:

HEAD

:


      

Serial

.

print

(

"HEAD"

);


      

break

;


    

case

 

WebServer

:

:

GET

:


      

Serial

.

print

(

"GET"

);


      

break

;


    

case

 

WebServer

:

:

POST

:


      

Serial

.

print

(

"POST"

);


      

break

;


    

default:


      

Serial

.

print

(

"UNKNOWN"

);


      

break

;


  

}


  

Serial

.

print

(

" /"

);


  

Serial

.

print

(

url_tail

);


  

Serial

.

print

(

' '

);




}





void

 

fileCmd

(

WebServer

 

&

server

,

 

WebServer

::

ConnectionType

 

type

,

 

char

 

*

url_tail

,

 

bool

 

tail_complete

)




{


  

int8_t

 

filehandle

;


  

char

 

buffer

[

50

];


  

char

 

*

mimetype

;


  

char

 

extraheader

[

30

];


  

int32_t

 

filesize

;





displayRequest

(

server

,

 

type

,

 

url_tail

);



  

/* we don't output the body for a HEAD request */


  

if

(

strcasecmp_P

(

url_tail

+

strlen

(

url_tail

)

-

3

,

 

PSTR

(

"jpg"

))

 

==

 

0

)


  

{


    

mimetype

 

=

 

"image/jpeg"

;


  

}


  

else

 

if

(

strcasecmp_P

(

url_tail

+

strlen

(

url_tail

)

-

3

,

 

PSTR

(

"png"

))

 

==

 

0

)


  

{


    

mimetype

 

=

 

"image/png"

;


  

}


  

else

 

if

(

strcasecmp_P

(

url_tail

+

strlen

(

url_tail

)

-

3

,

 

PSTR

(

"gif"

))

 

==

 

0

)


  

{


    

mimetype

 

=

 

"image/gif"

;


  

}


  

else

 

if

(

strcasecmp_P

(

url_tail

+

strlen

(

url_tail

)

-

3

,

 

PSTR

(

"htm"

))

 

==

 

0

 

||

 

strcasecmp_P

(

url_tail

+

strlen

(

url_tail

)

-

4

,

 

PSTR

(

"html"

))

 

==

 

0

)


  

{


    

mimetype

 

=

 

"text/html"

;


  

}


  

else


  

{


    

mimetype

 

=

 

"text/plain"

;


  

}



  

strcpy_P

(

buffer

,

 

PSTR

(

"/w/"

));


  

strcat

(

buffer

,

 

url_tail

);



  

filesize

 

=

 

getFileSize

(

buffer

);



  

if

(

filesize

 

>=

 

0

)


  

{


    

sprintf_P

(

extraheader

,

 

PSTR

(

"Content-Length: %lu

\r\n

"

),

 

filesize

);





Serial

.

print

(

"200 "

);




Serial

.

print

(

filesize

);



    

server

.

httpSuccess

(

mimetype

,

 

extraheader

);



    

if

(

type

 

!=

 

WebServer

::

HEAD

)


    

{


      

if

(

spewFile

(

server

,

 

buffer

)

 

!=

 

0

)


      

{


        

// error


        

server

.

httpFail

();


      

}


    

}


  

}


  

else


  

{


    

server

.

httpFail

();





Serial

.

print

(

"404 0"

);



  

}




Serial

.

println

();




}






/* The default page just returns HTML to show the image */




void

 

defaultCmd

(

WebServer

 

&

server

,

 

WebServer

::

ConnectionType

 

type

,

 

char

 

*

url_tail

,

 

bool

 

tail_complete

)




{


  

fileCmd

(

server

,

 

type

,

 

"i.htm"

,

 

true

);




}






void

 

cleanValue

(

char

 

*

s

)




{


  

int

 

i

 

=

 

0

;


  

int

 

len

 

=

 

strlen

(

s

);



  

for

(

i

 

=

 

0

;

 

i

 

<

 

len

;

 

i

++

)


  

{


    

if

(

!

(

isalnum

(

*

s

)

 

||

 

(

ispunct

(

*

s

)

 

&&

 

*

s

 

!=

 

'<'

 

&&

 

*

s

 

!=

 

'>'

)))


    

{


      

*

s

 

=

 

' '

;


    

}


    

s

++

;


  

}




}





void

 

chatCmd

(

WebServer

 

&

server

,

 

WebServer

::

ConnectionType

 

type

,

 

char

 

*

url_tail

,

 

bool

 

tail_complete

)




{




//  unsigned long time_start = millis();


  

int8_t

 

filehandle

;


  

char

 

paramname

[

10

];


  

char

 

name

[

51

];


  

char

 

message

[

201

];





#define READ_BUFFER_SIZE 50



  

// HEAD: just return a successful response (to indicate page exists - we don't know content-length)


  

// GET: we were called for the first time - just display current info


  

// POST: we have data to handle - check, add, display





displayRequest

(

server

,

 

type

,

 

"chat"

);



  

if

(

type

 

==

 

WebServer

::

HEAD

)


  

{





Serial

.

println

(

"200 -1"

);


    

server

.

httpSuccess

(

"text/html"

);


    

return

;


  

}




  

if

(

type

 

==

 

WebServer

::

POST

)


  

{


    

// capture the input data, validate, and add to chatdata.txt


    

// first, let's assume that the parameters are coming in order?


    

server

.

readPOSTparam

(

paramname

,

 

10

,

 

name

,

 

51

);


    

server

.

readPOSTparam

(

paramname

,

 

10

,

 

message

,

 

201

);



    

// parse the message here... remove chars


    

cleanValue

(

name

);


    

cleanValue

(

message

);

    

    

if

(

strlen

(

message

)

 

>

 

0

)


    

{


      

filehandle

 

=

 

ummc1

.

open

(

"/w/chatdata.txt"

,

 

OPEN_APPEND

);


    
      

if

(

filehandle

 

>

 

0

)


      

{


        

ummc1

.

writeln_prep

(

filehandle

);


        

ummc1

.

print

(

name

);


        

ummc1

.

print

(

" : "

);


        

ummc1

.

print

(

message

);


        

ummc1

.

writeln_finish

();


        
        

ummc1

.

close

(

filehandle

);


      

}


    

}


  

}



  

if

(

type

 

==

 

WebServer

::

GET

 

||

 

type

 

==

 

WebServer

::

POST

)


  

{


    

// ok, just spit out the page/form/data



    

if

(

getFileSize

(

"/w/ws_top_html.seg"

)

 

>

 

0

)


    

{





Serial

.

print

(

"200 -1"

);



      

server

.

httpSuccess

(

"text/html"

);



      

delay

(

1

);


    


//Serial.print('t');


      

spewFile

(

server

,

 

"/w/ws_top_html.seg"

);




//Serial.print('T');





//Serial.print('n');


      

spewFile

(

server

,

 

"/w/ws_chat_notice.seg"

);




//Serial.print('N');





//Serial.print('f');


      

spewFile

(

server

,

 

"/w/ws_form_html.seg"

);




//Serial.print('F');





//Serial.print('d');


      

server

.

print

(

"<pre>

\r\n

"

);



      

if

(

spewFile

(

server

,

 

"/w/chatdata.txt"

)

 

<

 

0

)


      

{


        

// file is empty (or error occurred)


        

server

.

print

(

"No messages"

);


      

}



      

server

.

print

(

"</pre>

\r\n

"

);




//Serial.print('D');





//Serial.print('b');


      

spewFile

(

server

,

 

"/w/ws_bottom_html.seg"

);




//Serial.print('B');
//Serial.print(':');
//Serial.println(millis() - time_start);



    

}


    

else


    

{


      

// card not inserted?





Serial

.

print

(

"404 0"

);



      

server

.

httpFail

();


    

}


  

}


  

else


  

{


    

// unknown method





Serial

.

print

(

"404 0"

);



      

server

.

httpFail

();


  

}





Serial

.

println

();





}






void

 

privateCmd

(

WebServer

 

&

server

,

 

WebServer

::

ConnectionType

 

type

,

 

char

 

*

url_tail

,

 

bool

 

tail_complete

)




{




//  unsigned long time_start = millis();





displayRequest

(

server

,

 

type

,

 

"private"

);



  

if

(

strcmp

(

server

.

getUsername

(),

 

"kotter"

)

 

==

 

0

 

&&

 

strcmp

(

server

.

getPassword

(),

 

"sweathog"

)

 

==

 

0

)


  

{



    

if

(

getFileSize

(

"/w/ws_top_html.seg"

)

 

>

 

0

)


    

{





Serial

.

print

(

"200 -1"

);



      

server

.

httpSuccess

(

"text/html"

);



      

delay

(

1

);





//Serial.print('t');


      

spewFile

(

server

,

 

"/w/ws_top_html.seg"

);




//Serial.print('T');


      
      

server

.

print

(

"Welcome back, Kotter."

);





//Serial.print('b');


      

spewFile

(

server

,

 

"/w/ws_bottom_html.seg"

);




//Serial.print('B');
//Serial.print(':');
//Serial.println(millis() - time_start);


    

}


    

else


    

{


      

// error


      

// card not inserted?





Serial

.

print

(

"404 0"

);



      

server

.

httpFail

();


    

}


  

}


  

else


  

{


    

// Authorization required
//    Serial.print("FAIL\r\nU: ");
//    Serial.println(server.getUsername());
//    Serial.print("P: ");
//    Serial.println(server.getPassword());





Serial

.

print

(

"401 0"

);



    

server

.

httpAuthRequired

(

"Secure Area"

);



  

}





Serial

.

println

();





}






void

 

setup

()




{


  

Serial

.

begin

(

115200

);


  

ummc_s

.

begin

(

38400

);



  

Serial

.

println

(

"Initializing uMMC"

);



  

ummc1

.

sync

();


  
  

Serial

.

print

(

"uMMC Version: "

);


  

Serial

.

println

(

ummc1

.

version

());


  
  

// setup the Ehternet library to talk to the Wiznet board


  

Ethernet

.

begin

(

mac

,

 

ip

);



  

/* register our default command (activated with the request of
   * http://x.x.x.x/ */


  

webserver

.

setDefaultCommand

(

&

defaultCmd

);



  

/* register our page output command */


  

webserver

.

addCommand

(

"p/"

,

 

&

fileCmd

);



  

/* register our chat command */


  

webserver

.

addCommand

(

"chat"

,

 

&

chatCmd

);



  

/* register our private area */


  

webserver

.

addCommand

(

"private"

,

 

&

privateCmd

);



  

/* start the server to wait for connections */


  

webserver

.

begin

();




}





void

 

loop

()




{


  

// process incoming connections one at a time forever


  

webserver

.

processConnection

();


  

delay

(

200

);




}