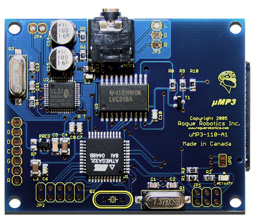 Current Hardware Version: uMP3-110 (A3)
| Hardware Version | Latest Firmware Version |
| --- | --- |
| uMP3-110 | 111.08 |
Below are some resources for the uMP3 Playback Module.
Documentation
INFO: This documentation is for the latest version of firmware (111.08 or newer).
Specifications and Standards
Connectors
Communications Protocol
Settings
Command Set
General Commands
Playback Commands
File System Commands
INFO: All File System Commands are identical to the file commands available on the uMMC and rMP3. Be sure to prefix each command with "FC".
Appendix